Print and Digital Edition of Invest Asia Vol.13 is out now!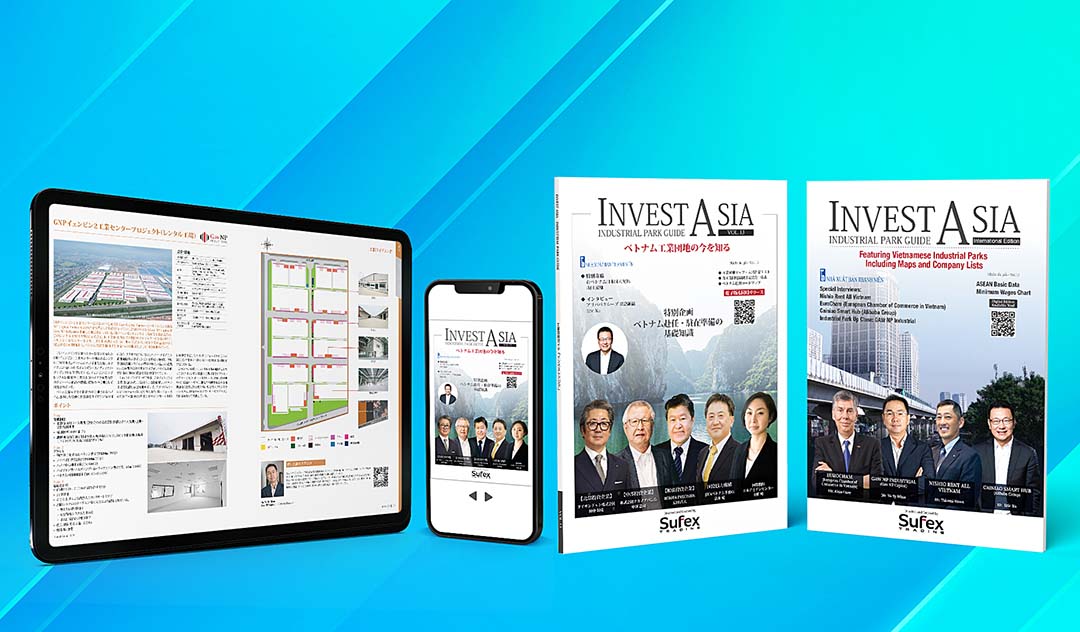 We have published the 13th issue of our Vietnamese Industrial Park information magazine, Invest Asia.
We interviewed Mr. Alain Cany, Chairman of The European Chamber of Commerce in Vietnam. Mr. Alain Cany expressed EuroCham's activities over the year, as well as the direction for coming year.
In the special article section, we feature an interview with Mr. Takumi Hosoi – General Director of NISHIO RENT ALL. He emphasized the importance of using machines and equipment with the best quality beyond just focusing on price. He analyzed the rental equipment demand changing due to the Covid-19 pandemic.
Another interesting article you should read in this volume is the interview of Mr. Eric Xu – General Manager of Cainiao Smart Hub (the logistics arm of Alibaba Group). The reason why Alibaba chose Vietnam as the destination for its expansion and their assessment of the Vietnam market are revealed.
In addition, the contents have been updated to include the latest information and detailed maps of industrial parks selected from all over Vietnam. Also included a list of tenants at a given park, which is useful for companies currently considering investment and for organizations that support expansion.
The digital edition can be viewed on all PC, smartphones, and tablet browsers.
Previously, distribution has been limited to certain areas, but now you can read Invest Asia anytime, anywhere, and whenever needed.
We hope you will take this opportunity to experience the digital edition of Invest Asia.
Invest Asia e-book:
International Edition: https://www.sufextrading.com/en/media/form/en
Japanese Edition: https://www.sufextrading.com/media/form
■Media information
Name: Invest Asia
Size: A4
Number of pages: 152 pages (International Version), 204 pages (Japanese Version)
Publication: Twice a year (February and August)
Contact: Sufex Trading Co., Ltd
6F Floor, No.17 D2 Shophouse Saigon Pearl,
92 Nguyen Huu Canh, Ward 22, Binh Thanh Dist., HCMC
Tel: +84-(0)28-3911-7771
E-mail: media@sufextradingvn.com